Timecop - 1994.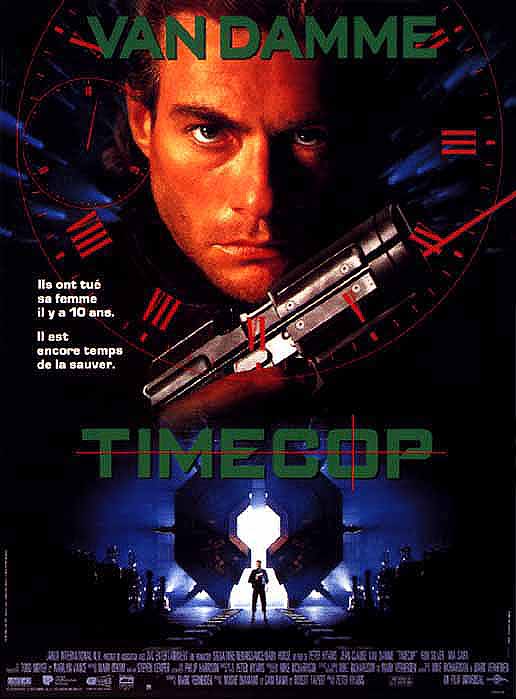 En l'an 2004, le voyage dans le temps est devenu réalité, et les criminels comptent bien s'en servir. Pour éviter que le cours du temps ne soit altéré, le gouvernement américain décide de créer la "Time Enforcement Commission" (T.E.C), chargé de réglementer et protéger le continuum espace-temps. L'agent Max Walker est l'un d'entre eux. Flic endurci depuis le décès de sa femme, considéré comme étant le meilleur agent de la T.E.C. Un voyage en 1994 pourrait bientôt changer sa vie et le continuum espace-temps au grand complet...
In the year 2004, the journey in the time became reality, and the criminals plan well to use it. To avoid that the course of time is distorted, the American government decides to create "Time Enforcement Commission" ( T.E.C), asked to regulate and to protect the space-time continuum. The agent Max Walker is one of them. Cop hardened since the death of his wife, considered as being the best agent of the T.E.C. A journey in 1994 could soon change its life and the whole space-time continuum...
# Réalisation : Peter Hyams.
# Scénario : Mark Verheiden, d'après son propre comic édité chez Dark Horse Comics.
# Production : Moshe Diamant, Sam Raimi, Robert G. Tapert, Todd Moyer, Marilyn Vance et Mike Richardson.
# Sociétés de production : Dark Horse Entertainment, JVC Entertainment, Largo Entertainment, Renaissance Pictures, Signature Pictures et Universal Pictures.
* Jean-Claude Van Damme : Max Walker
* Mia Sara : Melissa Walker
* Ron Silver : le sénateur Aaron McComb
* Bruce McGill : le commandant Eugene Matuzak
* Gloria Reuben : Sarah Fielding
* Scott Bellis : Ricky
* Jason Schombing : Lyle Atwood
* Scott Lawrence : George Spota
* Kenneth Welsh : le sénateur Utley
* Brent Woolsey : Shotgun
* Brad Loree : Reyes
* Shane Kelly : Rollerblades
* Richard Faraci : Cole
* Steven Lambert : Lansing
* Kevin McNulty : Parker