Sudden Death / Mort Subite - 1995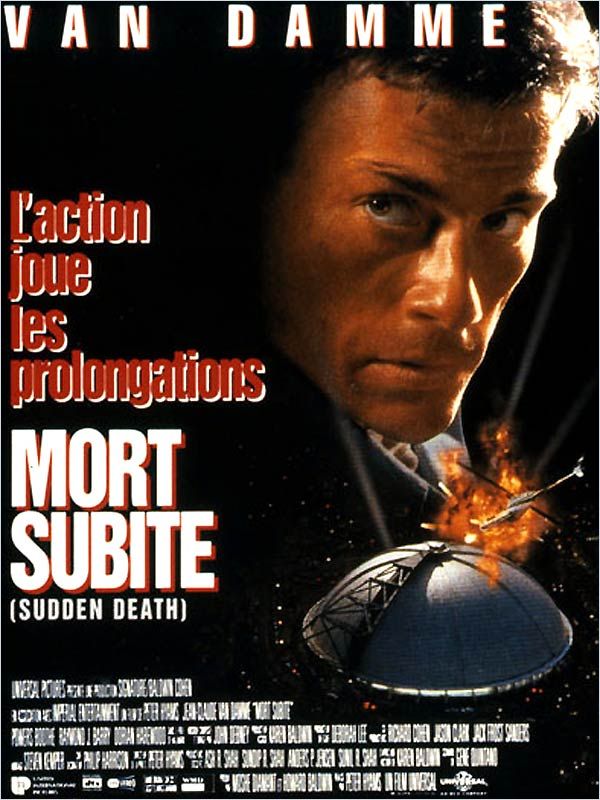 Darren McCord (Van Damme) est un ancien pompier qui a du mal à se remettre d'une intervention ratée qui a conduit à la mort d'une fillette. Habitant désormais à Pittsburgh, il se prépare à assister avec ses enfants au septième et ultime match de hockey sur glace de la finale de la Coupe Stanley de la Ligue nationale de hockey entre les Penguins de Pittsburgh et les Blackhawks de Chicago. Le match a lieu dans la patinoire des Penguins, le Civic Arena mais au cours du match McCord se rend compte que l'enceinte est prise en otage par un groupe mené par Joshua Foss (Boothe), un ancien membre du Gouvernement fédéral des États-Unis qui menace personnellement le Vice-président des États-Unis. McCord découvre alors que la patinoire est truffée d'explosifs et que Foss compte tout faire exploser à la fin du match.
Darren McCord ( Van Damme) is a former ancient fireman who has difficulty in recovering from a failed intervention which led to the death of a girl. Living henceforth in Pittsburgh, he gets ready to assist with his children the seventh and ultimate match of ice hockey of finale of the Cup national Stanley de la Ligue of hockey between Penguins de Pittsburgh and Blackhawks of Chicago. The match takes place in the ice rink of Penguins, Civic Arena but during the match McCord realizes that the surrounding wall is taken hostage by a group led by Joshua Foss ( Boothe), the former ancient federal government member of the United States who threatens personally the Vice-president of the United States. McCord discovers while the ice rink is stuffed with explosives and while Foss plans to blow up everything at the end of the match.
Réalisation : Peter Hyams.
Le film a été tourné en 1994 lors du lock-out de la Ligue nationale de hockey dans la vraie patinoire des Penguins.
* Jean-Claude Van Damme : Darren McCord
* Powers Boothe : Joshua Foss
* Raymond J. Barry : Daniel Bender, le vice-président
* Whittni Wright : Emily McCord
* Ross Malinger : Tyler McCord
* Dorian Harewood : Matthew Hallmark
* Kate McNeil : Kathi
* Michael Gaston : Hickey
* Audra Lindley : Mrs. Ferrara
* Brian Delate : Blair
* Jay Caufield : Brad Tolliver
* Jeff Hochendoner : Duckerman
* Jeff Jimerson joue son propre rôle (il chante l'hymne au début du match)
* Mike Lange joue son propre rôle (commentateur du match)
* Luc Robitaille joue son propre rôle
* Paul Steigerwald joue son propre rôle (commentateur du match)